10 minutes
75th anniversary of the event marked by activities for both staff and members
CUES members are enthusiastically celebrating International Credit Union Day 2023 and its 75th anniversary theme, "Empower your financial future with a credit union." I reached out to them via the CUESNet member community to bring you the details of their ICU Day activities involving both members and staff. While I was at it, I also invited them to tell us about what they are planning to do to enhance member service and talent development in the coming year.
A Teams Virtual Background and More—USF Federal Credit Union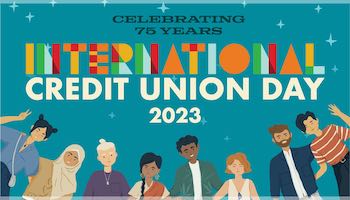 CUES member Nancy Cali, performance and learning architect with $1.1 billion USF Federal Credit Union, Tampa, Florida, shared the image that leads off this story. It's a Microsoft Teams background that remote staff will use during meetings this week.
The credit union is also running a 50/50 raffle to benefit the Worldwide Foundation for Credit Unions' efforts to raise $750,000 to mark the occasion. The foundation has four main initiatives that seek to eliminate gaps in financial inclusion, safety, gender inequality and leadership relevance.
USF FCU also is planning a social media promotion and member contest asking members to post a milestone event the CU helped them with, such as a first checking account, credit card, auto loan or mortgage. Entrants will get a chance to win $100 in a drawing. 
"We'll be able to use the submissions we get for future marketing campaigns, so the idea was a win-win!" Cali says.
The CU is also supplying fortune cookies and globe-shaped stress balls at its branches as member appreciation takeaways on Oct. 19.
In addition, the credit union is sharing with staff this video from the National Credit Union Administration about the history of the credit union movement along with a Kahoot challenge.
"Kahoot.com is a platform used by teachers and other instructors of learning to create quiz challenges that can be played in real time (like a virtual session) or assigned, where players access a link and answer the questions as accurately and as quickly as they can," Cali explains. "We have been using it for learning events and organizational learning challenges for about five years now."
USF FCU team members also will be invited to share recipes and decorate branches. Plus, "our staff will be sent a Kudoboard where all of us can reflect on why we love this industry and share 'member mission moments.' We've traditionally used it for birthdays or retirement events, but it can be used for so much more."
Empowering Members to Help the Planet and Their Pockets, Plus—Community First Bank
Aletia Fysh, head of marketing and product for $1.3 billion Community First Credit Union Ltd., operating as Community First Bank, Lidcombe, New South Wales, Australia, was among the first to reply to our CUES Net inquiry. She sent a great deal of information about the CU's work to develop and refine its green products—with the aim of empowering members to help the planet and their pockets. Watch for more on these programs in future coverage.
Fysh, whose CEO, John Tancevski, is a CUES member, also provided insight into the CU's plans for better serving members in the months ahead. 
"In the next 12 months, members will see significantly more investment in our loan origination systems and onboarding applications," she writes. "Community First is committed to improving our members' digital experience, and we will continue to invest in new technology that delivers an easier and faster customer experience.
"Sixty-five percent of Australians were exposed to a scam last year, so we'll continue to prioritise members' safety by navigating the digital evolution, enhancing security measures, promoting scam awareness and safeguarding their information," she continues. "As a trusted provider of financial services, we play a crucial role in securing members' money and data throughout their customer journey."
Fysh also says the overall high cost of living and housing affordability challenges specifically could get in the way of members reaching their overall financial goals. As an example of the pressure, Sydney's median house price is over $1 million, she reports, and many other cities are now approaching that level. This poses challenges for homebuyers who usually need to save 20% to qualify for a loan.
"The temporarily high inflation Australia is facing means the cost to simply put petrol in our cars, use energy in our homes or pay grocery bills will challenge many consumers," she says. "Community First supports members to meet these challenges through more flexible products such as offset accounts on fixed-rate home loans, low-rate basic home loans, financially and socially compelling credit cards, unsecured personal loans with competitive interest rates and bonus saver accounts that reward depositors for regular savings. 
Further, understanding the impact of changing rates and planning for it can be challenging for members, Fysh points out. Community First Bank staff aid members in achieving their financial goals amidst an uncertain interest rate environment by providing essential guidance in product selection. 
The bank believes its ongoing investment in staff training and development ensures its team is always able to meet evolving member needs. 
One such member need is to deal with the increasing threat of financial abuse, which often targets the most vulnerable in the community. "We have worked closely with the NSW Ageing and Disability Commission to develop a training program which has now been delivered to 71 member experience staff members," Fysh says.
In addition, "we have a record number of employees completing a qualification in leadership and management. The 10 staff members are aspiring leaders from across our business, who are committed to honing their leadership skills for current and future roles with Community First."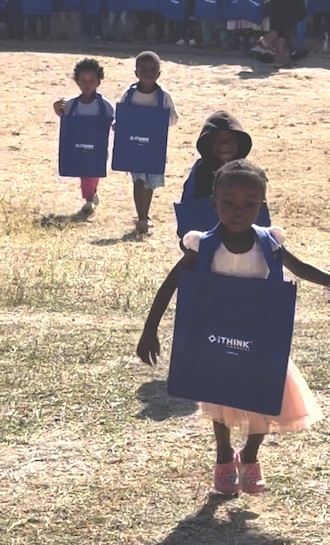 Protecting Kids in Malawi From Harmful Bacteria—iTHINK Financial 
When children in Malawi were getting sick from bacteria in the ground, $2.1 billion iTHINK Financial, Delray Beach, Florida, partnered with World Harvest Church, Roswell, Georgia, to provide shoes to better protect them.
In addition to the shoes, the iTHINK Financial grocery tote each of 225 children received this past June contained a t-shirt, shorts, socks and underwear in their size, according to Tiffany Flood, manager of community development. The CU plans to partner with the church on future projects.
To help empower its members' financial futures, the CU also offers free online financial education.
"In 2024, iTHINK Financial plans to continue investing in the communities it serves, while continuing to further the level of service we give to our members," says CUES member Stephen Johnson, CSME, SHRM-CP, AVP/administration and marketing.
"Our performance and development team designs our learning plans for particular employee journeys," Johnson says. "We are also in the process of adding more channels to our leadership development program, which provides managers the tactical information they need to increase their employees' experience."
Celebrating International Student Members—Premier America Credit Union
CUES member Richard Dedor says his CU will be hosting a mid-day networking event featuring international students who attend California State University, Northridge, where Premier America Credit Union is the official credit union.
Student members "are passionate about speaking on the impact their membership in Premier America Credit Union has had on their collegiate experience, and in their adjustment to life in another county," says Dedor, VP/marketing for the $3.6 billion CU, Chatsworth, California. "It will be an opportunity for all international students to network, learn and experience the value of membership in a credit union."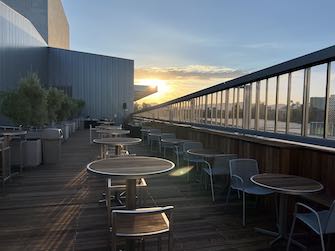 The event will be held on the rooftop of the campus performing arts center, a location that has 360-degree views of the San Fernando Valley. CSUN's International and Exchange Student Center will co-host.
"We are also planning general member appreciation content and promotions, but we have quickly found that the international community on the campus of CSUN is passionate and most in need of a friend and partner in the financial space," Dedor says.
Premier America CU also offers two free resources to all members and non-members to help them learn more about all things related to smart financial decisions, Dedor says. These are real-world financial education powered by EverFi and certified financial coaches powered by Greenpath.
In addition, "our digital-first Smart Spending account (which comes with a $100 account opening bonus for all CSUN students), comes with no fees. Ever," Dedor says.
'Thank Use' Perks Payout Plus In-Branch Celebrations—Dupaco Community Credit Union
Dupaco Community Credit Union plans to payout its members' Thank Use Ownership Perks on International Credit Union Day tomorrow.
"Participating members have been working towards unlocking their Thank Use throughout the year by utilizing their credit union services like savings, loans, checking, insurance, investments and fraud prevention tools," explains CUES member Emily Kress, senior corporate communication specialist at the $3.1 billion credit union in Dubuque, Iowa. The timeframe to earn Thank Use was Jan. 1 through Sept. 30.
The average dividend this year, the eighth consecutive year the dividend has been paid, was $45. Since 2016, Dupaco has paid more than $27.7 million in Thank Use directly to member-owners.
The Thank Use dividend demonstrates the power of Dupaco Community CU's member-owned, cooperative structure, according to Chief Marketing Officer David Klavitter, CCE, a CUES member.
"Dupaco is more than local," he says. "It's a financial cooperative, owned by people in our community, The more members use their credit union, the more members, the community and Dupaco benefit."
The CU also has in branch and online celebrations planned with members, plus will be reaching out to the communities it serves through its community outreach and education teams.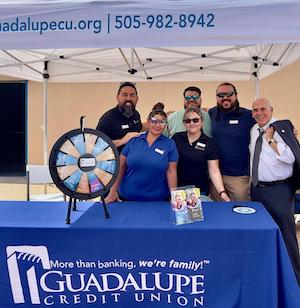 Free Credit Check Week—Guadalupe Credit Union
Guadalupe Credit Union is celebrating its financial coaching program as it offers "Free Credit Check Week" this week. 
"Financial coaches are giving people an opportunity to learn about their credit report at all our locations," explains CUES member Diane Sandoval-Griego, CCUFC, CUDE, chief of financial empowerment at the $262 million CU in Santa Fe, New Mexico. "Credit is an important tool in a healthy financial life. We are here to support our community with questions about scores, debt, identity theft and more."
During the coming months, Guadalupe CU will focus on its Smart-E loan program for improving energy efficiencies as well as its homeownership initiatives. "We want to help build avenues to homeownership and maintain affordable energy costs long term," says Sandoval-Griego.
To help employees, the CU offers financial coaching through its Smart Money program. Staff earn prizes for debt reduction, savings and credit score improvement. 
"Staff learn how financial tools impact their own lives," Sandoval-Griego says. "As we learn, we share that knowledge with others. GCU supports professional training for our employees in a variety of platforms including online education, job shadowing, mentorships, tuition assistance and educational opportunities through credit union partners. We enjoy seeing our staff reach new heights professionally and personally."
Goal: 100% Staff Participation in a Week of Volunteer Events—Landings Credit Union
Landings Credit Union has a volunteer event planned every day of International Credit Union Day week, according to CUES member Adrianne Rexius, PHR, SHRM-CP, CUDE, CHRO of the $247 million CU in Tempe, Arizona. Here's the lineup:
Sunday, Oct. 15—Serve dinner for the homeless
Monday, Oct. 16–Volunteer at House of Refuge
Tuesday, Oct. 17, Wash windows at Aguliar Elementary
Wednesday, Oct. 18, Paint lines at Hartford Elementary
Thursday, Oct. 19, Member giveaway in the branches
Friday, Oct. 20, Help set up and with any last-minute needs for a big Monster Mash fundraiser for The Center for Habilitation, an organization dedicated to finding creative and innovative ways to provide hope and purpose for individuals with disabilities
Saturday, Oct. 21, Volunteer at Monster Mash event
All Week, Making cards for residents of American Orchards Memory Care
"It's also spirit week for us, and we have different themes every day for staff to dress up," Rexius says. "This year is extra special for us as Oct. 19 will also be our 70th anniversary."
Lisa Hochgraf is senior editor at CUES.